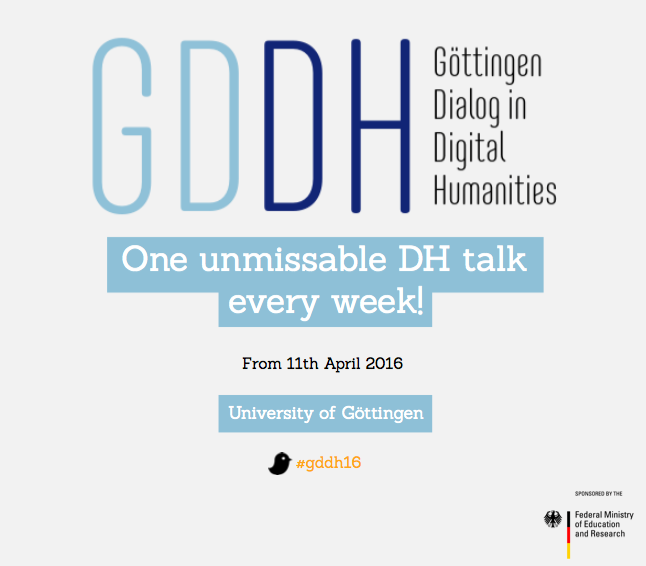 The Göttingen Dialog in Digital Humanities has established a forum for the discussion of digital methods applied to all areas of the Humanities and Social Sciences, including Classics, Philosophy, History, Literature, Law, Languages, Archaeology and more. The initiative is organised by the Göttingen Centre for Digital Humanities (GCDH) with the involvement of
DARIAH.EU
.
The dialogs will take place every Monday (except for April 26th) from April 11th until mid July 2016 in the form of 90-minute seminars between 4:00-6:00pm Presentations will be 45 minutes long and delivered in English, followed by 45 minutes of discussion and student participation. Furthermore, we proudly announce that
Prof. Dr. Stefan Gradmann
(KU Leuven) will be giving the opening keynote on April 11th.
Unless otherwise requested by the speaker, the dialogs will be video-recorded and subsequently uploaded to our YouTube channel. Presentation slides will be collected by the organisers on presentation day and made available for download on this page. It is the responsibility of the speakers to ensure that all materials presented are duly credited and rights cleared.
The authors will be asked to contribute a paper to a Digital Humanities Quarterly (DHQ) special issue. Furthermore, the author(s) of the best paper and talk will receive a prize of €500, which will be awarded on the basis of both the quality of the paper (50% weight) and the presentation of the research (50% weight).
The full program can be found on the website of the electronic Text Reuse Acquisition Project (eTrap).